View Greenwood Toronto Homes for Sale Here [rev_slider alias="real-estate-showcase-slider1-1″][/rev_slider]

This neighborhood is perfect for young professionals and retirees.
History:
Greenwood Toronto Homes for Sale offers the residential area between Greenwood and Coxwell avenues from Danforth Avenue to Eastern Avenue. It is also considered to be part of Leslieville, and its northern end, north of the railway tracks, is often included in the Riverdale-East York communities. The Little India commercial area is located on Gerrard Street East within the Greenwood-Coxwell area.
It began as a small village back in the 1850s. The village grew up around the Toronto Nurseries owned by George Leslie and Sons after whom this neighborhood is named. Most of Leslieville's first residents were either market gardeners or were employed at one of several bricks making companies that used to operate in the area. One of the first buildings in the village was the Leslieville Public School, which was built in 1863. Leslieville's first principal was Alexander Muir who composed "The Maple Leaf Forever". Muir's poetic verse was inspired when a brilliant autumn maple leaf fell from a Leslieville tree onto his jacket. This moment in Canadian history is memorialized by a historic plaque at the intersection of Laing Street and Memory Lane.
Overview:
The Greenwood Toronto Homes for Sale in Greenwood-Coxwell is perfect for young professionals and retirees. It is a community-oriented neighborhood, making it overall a great place to live, work, and play. With a Walk Score of 82, and a Bike Score of 52 the area is beautiful for walking and biking. Not to mention its great TTC access, scoring an 84 in Transit Score.
There is plenty of green space for all ages. Among them, the resident favorite is Monarch Park. The neighborhood is also close to the laird strip which is full of unique shops and restaurants for everyone. All these great features make Greenwood- Coxwell the ideal place for your busy urban lifestyle.
Homes:
View Greenwood Toronto Homes for Sale Here
Greenwood Toronto Homes for Sale is one of the east end's most desirable and affordable neighborhoods for young families as the majority of its housing stock is comprised of semi-detached homes and apartment dwellings five or more floors in height.
This is also the place to call home for younger, Upper-Middle-Income singles and families. Many here live an active leisure life. These folks have a busy, urban lifestyle on weekdays, and enjoy getaways on weekends! The neighborhood also boasts some of the city's best entertainment options. You can often find its residents rooting for sports teams in a local bar, visiting theatres, and taking delight in the nightlife.
Lifestyle:
Greenwood-Coxwell/ Leslieville's main shopping district runs along historic Queen Street. Most of these stores are small independently owned shops that cater to the specific needs of the residents. The area on Gerrard Street East between Greenwood Avenue and Coxwell Avenue is known as the ïIndia Bazaar'. This is the commercial center of Toronto's East Indian community. The smell of incense and the sound of music provide an exotic backdrop to the shops on this street. The clothing stores sell imported silk fabrics, and the restaurant vendors barbecue spicy corn on the cob out on the sidewalk.
Parks, Recreation & Culture..
Greenwood Park has three baseball diamonds, an artificial ice rink, a pool, and a playground. The Jonathan Ashbridge Park on the south side of Queen Street features two tennis courts, a children's playground, and a wading pool. The S.H. Armstrong Community Recreation Centre on Woodfield Road, has a gymnasium, an indoor pool, a fitness room, a craft room, and meeting rooms. The Gerrard/Ashdale Public Library has a wide variety of programs for children, adults, and seniors.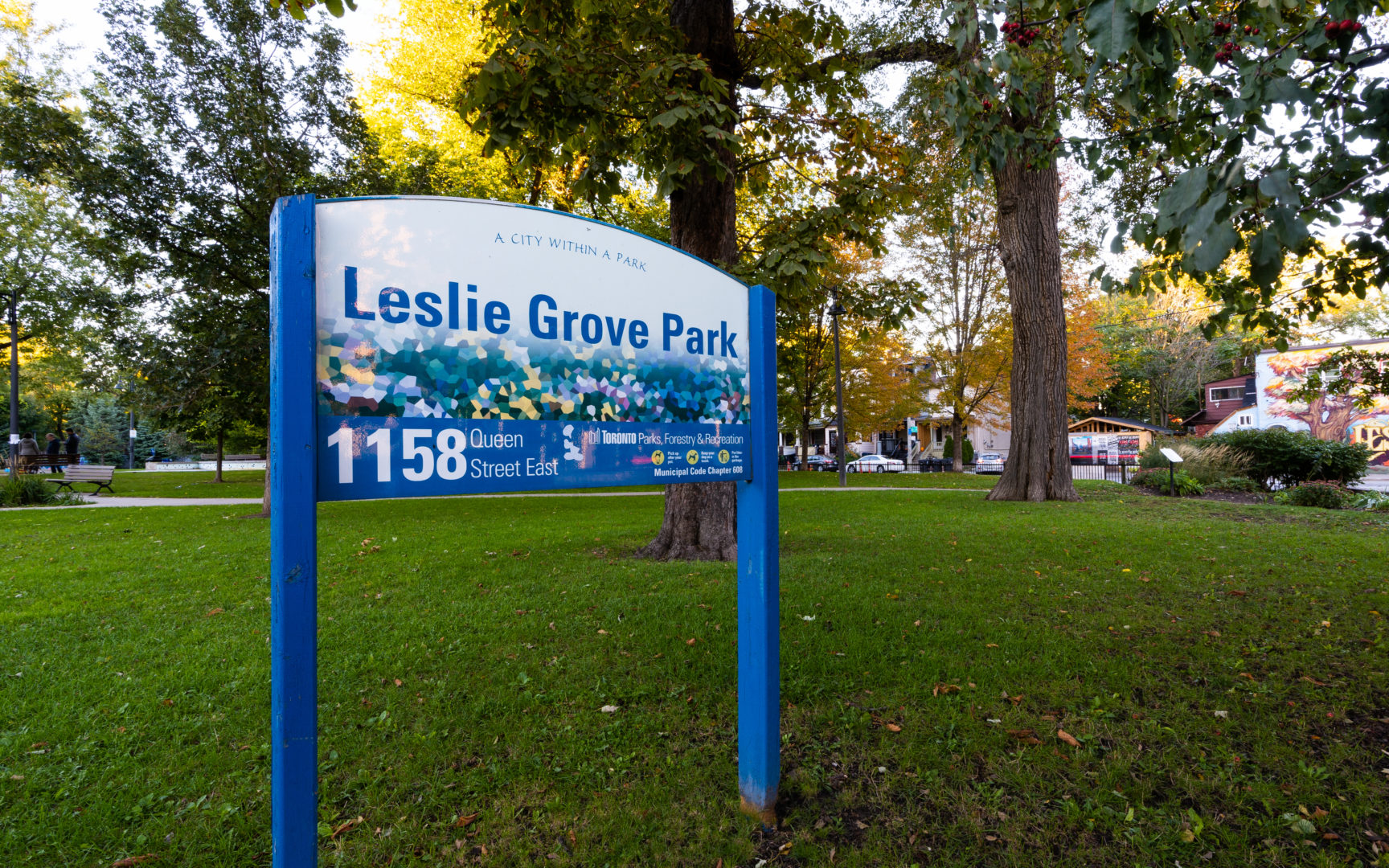 Monarch Park
115 Felstead Avenue
A 5-hectare park near Danforth and Coxwell Avenue that features a dog off-leash area, an outdoor pool, a wading pool, and a children's playground. During the winter there is also an artificial ice rink in operation.
The Rail Garden
450 Woodfield Road
*Please note: No visitors are permitted to community or allotment gardens as per Toronto Public Health's COVID-19 guidance for community & allotment gardens. Please enjoy the garden from the nearest public sidewalk or path. This City of Toronto-operated community garden was founded by four local women in 2012 with help from neighbors and businesses in the surrounding community.
Pedestrian Tunnel
450 Woodfield Road
A well-lit, colorful link to travel between Woodfield Road and Monarch Park.
Greenwood Staircase to Nowhere
Torbrick Road & Greenwood Avenue
These abandoned stairs off Torbrick Road & Greenwood Avenue were built in 1959 to provide access to a now-demolished brickyard.
Graffiti Alley East
471 Craven Road
Located in the alleyways on the south side of Gerrard Street East between Craven Road and Rhodes Avenue, the project was modeled on the Graffiti Alley West at Rush Lane. Artists include Monica Wickeler, Nicolas Sinclair, Tim Skynz & Eskape Reality Collective, Kerry O'Meara, Angel Carrillo, and Minha Maconha.
Under the Radar Mural
1324 Gerrard Street
This vibrant mural, done in partnership with the Riverdale Immigrant Women's Enterprise, reflects the colorful facades and South Asian identity of the Gerrard Bazaar and Toronto's "Little India" neighborhood.
Transportation:
Leslieville is well served by the public transit system which operates bus or streetcar routes on Carlaw, Jones, Greenwood, Coxwell, and Eastern Avenues, as well as Queen and Gerrard Streets. Most of these bus routes link up with stations on the Bloor-Danforth subway line.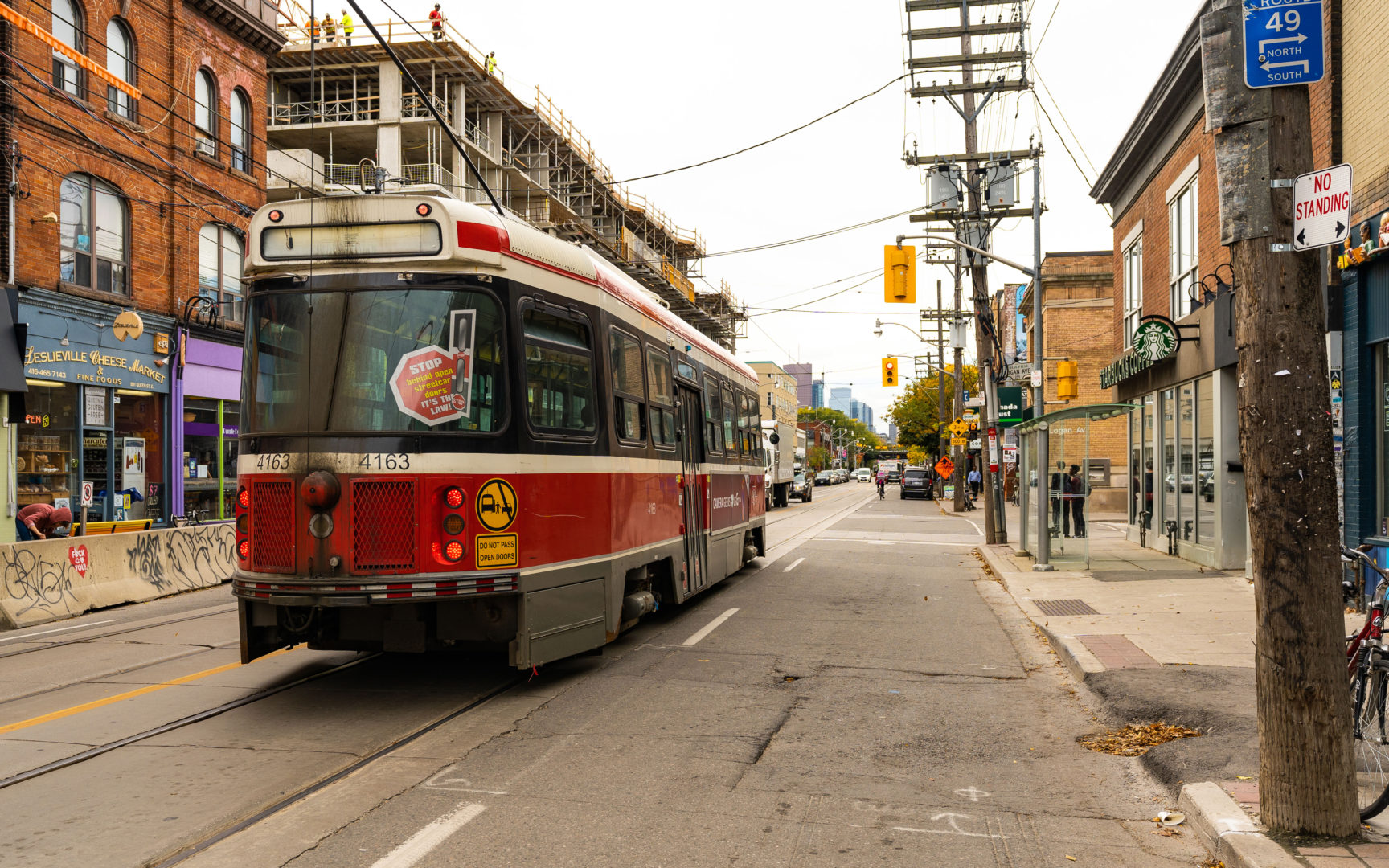 Motorists can be downtown in minutes. Lake Shore Boulevard, the Gardiner Expressway, and the Don Valley Parkway are also close by.
Motorists can be downtown in minutes. Lake Shore Boulevard, the Gardiner Expressway, and the Don Valley Parkway are also close by.
Schools:
Greenwood-Coxwell has 9 Public schools, 6 Catholic schools, and 1 Private School in this neighborhood, your kids can get a great education.
PUBLIC SCHOOL
Monarch Park Collegiate Institute
Address: 1 Hanson St, Toronto, ON M4J 1G6, Canada | Telephone: (416) 393-0190 | Fax: (416) 393-0834 | Email: MonarchPark@tdsb.on.ca
"Monarch Park is a welcoming, supportive, and safe school. With the individual in mind, we strive to ensure that each student's needs are met with support both inside and outside of the classroom. Our supports include the Tutors in the Classroom program, a dedicated social worker, and other workshops/events that assist our students with their individual and collective needs. We focus on Global Education and our community is represented by over 70 different countries. Our students are encouraged to pursue excellence and lifelong learning in individual subject areas and in our International Baccalaureate Program." As originally published by Monarch Park Collegiate Institute
Address: 80 Queensdale Ave, East York, ON M4J 1Y3, Canada | Telephone: 416 465-5757
"Nous sommes heureux d'accueillir environ 400 élèves de la maternelle à la 6e année dans un milieu sécuritaire où il fait bon apprendre. À l'école élémentaire La Mosaïque, nous préconisons le développement global de l'enfant en mettant l'accent sur la pensée critique, la curiosité intellectuelle et l'imagination. Nous désirons outiller les enfants pour qu'ils prennent leur place dans un monde en évolution afin de devenir des citoyens engagés." As originally published by É Élém La Mosaïque
Duke of Connaught Junior and Senior Public School
Address: 70 Woodfield Rd, Toronto, ON M4L 2W6, Canada | Telephone: (416) 393-9455 | Fax: (416) 393-9458 | Email: DukeofConnaught@tdsb.on.ca
"Duke of Connaught has a long tradition in East Toronto. In 1912, the school was built next to the historic Ashbridge House on land that had been the orchard of the Ashbridge Estate. Woodfield Senior School was added in the late 1950s. The Junior and Senior schools combined in 1989 to form Duke of Connaught Public School. Today, we are a vibrant JK to Grade Eight school that reflects the diversity and richness of contemporary Toronto." As originally published by Duke of Connaught Junior and Senior Public School
Riverdale Collegiate Institute
Address: 1094 Gerrard St E, Toronto, ON M4M 2A1, Canada | Telephone: (416) 393-9820 | Fax:(416) 393-0988 | Email: Riverdale@tdsb.on.ca
"Since 1907, Riverdale Collegiate has established a reputation for academic excellence and strong community involvement. Riverdale is home to a modern library learning commons and students regularly use technology to enhance their learning. The academic program is complemented by a wide variety of clubs and sports such as: the Riverdale Environmental Action Committee, SASSD, yearbook, athletics, music, and theatre. Our school prides itself on a strong spirit of community." As originally published by Riverdale Collegiate Institute
Address: 100 Carlton St, Toronto, ON M5B 1M3, Canada | Telephone: 1 800 749-0002
"Le Collège français sera un milieu de vie stimulant pour tes amis et toi. Toute une équipe est là, chaque jour, pour t'aider à découvrir de nouveaux horizons et à mieux comprendre le monde qui t'entoure." As originally published by Collège français secondaire
Address: 51 Larchmount Ave, Toronto, ON M4M 2Y6, Canada | Telephone: (416) 393-0670 | Fax: (416) 393-0671 | Email: Bruce@tdsb.on.ca
"Originally named "Leslie Garden School", Bruce Jr. Public School is located in Leslieville in an area previously occupied by The Leslie Nursery Gardens. When the nursery was sold, construction started and a new school opened in 1923. Originally the area was populated primarily by a community of British Heritage. Today many of our students have English as their second language. The largest non-English speaking group is of Chinese heritage, with the growing representation of other languages and cultures. We provide Junior Kindergarten to Grade 8 and have a vibrant Early Years partnership with WoodGreen Community Services, providing seamless childcare and learning opportunities for families and children of all ages and backgrounds." As originally published by Bruce Public School
Bowmore Road Junior and Senior Public School
Address: 80 Bowmore Rd, Toronto, ON M4L 3J2, Canada | Telephone: (416) 393-9450 | Fax: (416) 393-9448 | Email: Bowmore@tdsb.on.ca
"Bowmore P.S. is a large, dynamic kindergarten to grade 8 learning community of approximately 860 students and over 80 staff members. Our school is situated in the Upper Beaches, and it was created by the twinning of two former schools in 1989 (Bowmore Road P.S. built-in 1923, and Fairmount Park Senior School built-in 1963). The school houses a variety of programs, including French Immersion, Grade 7 and 8 Extended French, Gifted Intensive Support Programs, and Learning Disability Intensive Support Programs. Bowmore takes pride in providing multiple ways of supporting student interests and needs, which is what makes it such a wonderful place to learn!" As originally published by Bowmore Road Junior and Senior Public School
Address: 15 Earl Haig Ave, Toronto, ON M4C 1E1, Canada | Telephone: (416) 393-1640 | Fax: (416) 393-1643 | Email: EarlHaig.PS@tdsb.on.ca
"Earl Haig Public School is a proud community school with its first graduating class dating back to 1924. We presently offer Kindergarten through to Grade 8 and our dedicated staff work closely with our parents and school community members to enable and support all of our students to reach high levels of achievement and to acquire the knowledge, skills and the values they need to become responsible members of our democratic society. We have a highly committed and caring School Council that assists us in enriching the lives of our students and building community partnerships and we offer all of our learners with the opportunity to be involved in the school's extensive intra- curricular life." As originally published by Earl Haig Public School
Address: 151 Hiawatha Rd, Toronto, ON M4L 2Y1, Canada | Telephone: (416) 393-9555 | Fax: (416) 393-9553 | Email: Roden@tdsb.on.ca
"Roden Public School has been an integral part of the Coxwell and Gerrard neighborhood since 1907. Over the years, it has undergone many structural changes to accommodate the growing needs of the student population and the school community. Roden was completely rebuilt as an open concept school in 1969 – all teaching areas open into a shared space called a "common area". Within the school, there is a large music room, an all-purpose gymnasium, and a fully functional library with a computer lab." As originally published by Roden Public School
CATHOLIC AND PRIVATE SCHOOL
Kew Park Montessori Day School
Address: 79 Hiawatha Road, Toronto, ON M4L | Telephone: (416) 694-6273 | Email: info@kewparkmontessori.com
"We prepare children for a lifetime of learning with authentic Montessori instruction. In our safe and nurturing environment, your child will learn and grow emotionally, socially, and intellectually. They will develop independence, confidence, and a sense of purpose." As originally published by Kew Park Montessori Day School
Address: 50 Woodmount Ave, Toronto, ON M4C 3X9, Canada | Telephone: 416-393-5235 | Fax: 416-393-5815
"St. Brigid was born around the year 453 near Kidare in Ireland. She lived by her words: "to honour Christ, for Christ is in the body of every poor man". Her hand was always out to the poor. She was considered to be a joyful, invigorating saint, who radiated goodness, wholeness and the attractiveness of the Christian life. St. Brigid Catholic School opened on November 14, 1921 with 223 students. Today, our staff is a group of highly experienced, self-motivated teachers, committed to making the teaching/learning experience in a Catholic environment as meaningful as possible." As originally published by St. Brigid Catholic School
Address: 250 Gainsborough Rd, Toronto, ON M4L 3C6, Canada
"L'école élémentaire catholique Georges-Étienne-Cartier accueille plus de 400 élèves du jardin à la 6e année. Elle est une école dynamique caractérisée par une panoplie d'activités culturelles, pédagogiques, pastorales et communautaires où le français rayonne. Dotée d'une mission et d'une vision avant-gardistes, l'école est une communauté apprenante qui a à cœur l'éducation et l'amélioration du rendement de tous les élèves. À cet effet, plusieurs initiatives sont mises en place pour assurer le succès et l'épanouissement de tous. Le personnel œuvre dans un esprit de collaboration afin de s'outiller d'une pédagogie branchée et engageante." As originally published by ÉÉC Georges-Étienne-Cartier
Address: 343 Jones Ave, Toronto, ON M4J 1A7, Canada | Telephone: (416) 395-3060 | Fax: (416) 395-3168 | Email:
"À l'école élémentaire catholique du Bon-Berger, nous nous soucions de créer un environnement où chaque élève se sent bien dans sa peau et peut donc apprendre à son plein potentiel. Nous nous assurons d'offrir aux élèves un milieu scolaire sécuritaire où la francophonie et les valeurs catholiques occupent une place importante. Nous encourageons les élèves à développer leur estime de soi, à être à l'écoute des autres, à faire preuve d'entraide et à s'engager pleinement dans toutes les facettes de leur éducation. C'est ainsi qu'ils deviennent autonomes et responsables dans leur apprentissage." As originally published by ÉÉC du Bon-Berger
Address: 330 Lansdowne Ave, Toronto, ON M6H 3Y1, Canada | Telephone: (416) 395-3060 | Fax: (416) 395-3168 | Email:
"L'école secondaire Saint-Frère-André est une école accueillant les élèves de la 7e à la 12e année. Notre but premier en tant qu'établissement d'éducation est avant tout l'apprentissage et le développement de votre enfant dans un milieu francophone catholique stimulant. En vue d'offrir un enseignement de qualité et un choix intéressant d'options à nos élèves, nous offrons toute une panoplie d'activités parascolaires, ainsi que des programmes d'enseignement. «Offrir à l'élève une éducation de qualité dans un milieu de vie catholique et francophone où le respect de la personne, le sens d'appartenance à la collectivité franco-ontarienne, la promotion de l'excellence et enfin l'équité sont des valeurs visibles et essentielles à son épanouissement ». C'est non seulement la mission du conseil scolaire mais aussi celle des enseignants." As originally published by ÉSC Saint-Frère-André
St. Patrick Catholic Secondary School
Address: 49 Felstead Ave, Toronto, ON M4J 1G3, Canada | Telephone: 416-393-5546 | Fax: 416-397-6685
"Founded in 1986, St. Patrick Catholic Secondary School is a semester, co-educational institution guided by Catholic beliefs, values, and traditions. Our mission as a Catholic school is the development of the whole student both academically and spiritually presented in a safe, academically challenging, and creative environment. As predicted by our motto: "Impelled by the love of Christ," we strive to help students discover their skills and passions and to nurture these abilities to their full potential always in the spirit of Christ. We provide a full range of comprehensive programming which prepares students for a variety of post-secondary destinations." As originally published by St. Patrick Catholic Secondary School
Address: 176 Leslie St, Toronto, ON M4M 3C7, Canada | Telephone: (416) 395-3060 | Fax: 416-393-5871
"St. Joseph School houses approximately 180 students. This school is a community-based school that works closely with the Church and Parent Community. Our students come from all walks of life. Because St. Joseph offers programs in Learning Disabilities, Multiple Exceptionalities, and Language Instruction, many of the students in these programs are bused to the school from surrounding communities. St. Joseph School also has 8 regular classes including two all-day kindergarten classes. In addition, we have 1 Special Education class to service students with special needs. Vocal music is offered to students from J.K. to grade 5 and instrumental music is offered to students in grades 6-8." As originally published by St. Joseph Catholic School
Address: 176 Leslie St, Toronto, ON M4M 3C7, Canada | Telephone: 416-393-5209 | Fax: 416-393-5871

"St. Joseph School houses approximately 180 students. This school is a community-based school that works closely with the Church and Parent Community. Our students come from all walks of life. Because St. Joseph offers programs in Learning Disabilities, Multiple Exceptionalities and Language Instruction, many of the students in these programs are bused to the school from surrounding communities. St. Joseph School also has 8 regular classes including two all day kindergarten classes. In addition, we have 1 Special Education class to service students with special needs. Vocal music is offered to students from J.K. to grade 5 and instrumental music is offered to students in grades 6-8." As originally published by St. Joseph Catholic School

[elementor-template id="30491″]