Toronto's most diverse selection of apartment buildings and highly sought area in Toronto.
History:
The Church-Yonge Corridor is located in the narrow north to south stretch, between Yonge and Jarvis, reaching Front Street up to Bloor. This highly sought area was originally populated by Toronto's elite. Prominent families such as William Jarvis, who was the former Provincial Secretary to Upper Canada, built his family estate.
The Downtown was originally settled by some of early Toronto's most prominent families. The street names in this neighborhood are clues to its rich history.
Jarvis Street was named after this very well known family. George Allen is the former mayor of Toronto and his estate earned him Homewood Avenue. McGill Street and Sherbourne also street names named after its predecessor Captain John McGill and the Ridout Family originally from England.
Up until the 1900s, the Church Yonge Corridor real estate was widely known as Toronto's most fashionable suburb as huge mansions belonging to prominent families in the area set the tone. There still remains a few historical buildings in the area that have now been turned into multi-family homes.
The Yonge Street (formerly listed as "the longest street in the world" by Guinness Book of Records) serves as the west side boundary, while Jarvis serves as the east. This happening hood is one of the city's most heavily populated and busy areas. It includes the Church-Wellesley Village which hosts the city's LGBT community and every year when millions from around the world flock to the city for Pride Week, this is the center of the action. The festival is a week-long celebration with concerts, exhibits, and of course the legendary Pride Parade.
Overview:
New condominiums are popping up everywhere which is turning this rough around the edges downtown grit to city chic. Victorian homes from the 1800s have been converted into commercial or multi-family homes and townhomes that were built in the 1970s & 1980s, are historical figures that still remain intact. The downtown core is where you will find a multitude of differently designed apartment buildings and a collection of artistically crafted townhomes. The existence of walk-out apartments from the 1920s, high rises from the 1950s, and new luxury condominium apartments adds character and is quite attractive for those wanting to be unique.
The Church-Yonge corridor has over 600 retails stores, 150 bars, and restaurants and 4 theaters to choose from. The Eaton Centre is located in the hub of it all which is the largest indoor shopping center in Toronto which is home to well over 300 stores. Yonge-Dundas Square is just outside of the Eaton Centre where you can be sure to find concerts, festivals, and year-round events for everyone.
If shopping isn't your thing, no problem at all, the Church-Yonge Corridor is home to Allan Gardens Conservatory which is the largest outdoor park in the downtown area that houses 6 greenhouses with the most unusual exotic plants. This area is well served by transportation as the bus and subway line is easily accessible to take you around the city.
Homes:
Downtown's Victorian houses were built in the mid to late 1800's. Most of these houses have been converted to commercial uses or into multi-family homes. This neighborhood also contains a large number of fashionable townhouses built in the 1970's and 1980's. The Downtown is where you will find Toronto's most diverse selection of apartment buildings. There are art-deco designed, walk-up apartment buildings from the 1920's, high-rise apartment buildings from the 1950's, and newer luxury condominium apartment buildings, These range from entry level prices to more exclusive residences such as the Windsor Arms condominium where units sell for over one million dollars.
Ryerson University, Photo by Unknown
Living in Church Yonge-Corridor
Downtown Toronto residents come from a myriad of different backgrounds and span the entire spectrum of the socio-economic scale. There is a large number of rental accommodations in this neighborhood. This reflects the mobility of the population, which is comprised mostly of singles and couples. Ryerson University is helping to reshape Toronto's downtown east core having recently purchased landmark buildings to expand their campus. One of these acquisitions is the former Maple Leaf Gardens which has been renamed Mattamy Athletic Centre and now serves as the home of the Ryerson University Sports and Recreation Centre. New condo developments are springing up all over the Church-Yonge Corridor which is gradually changing the character of this downtown neighborhood from urban grit to City chic.
Lifestyle:
Lifestyle in Church Yonge-Corridor
Ryerson Student Learning Centre – Snøhetta | Zeidler, Photo by doublespace
Downtown residents have a wide variety of shopping opportunities available to them. This mix includes high-end fashion stores on Bloor Street, trendy shops and restaurants on Church Street, and day-to-day retail shopping on Wellesley, Gerrard, Sherbourne, and Charles Streets. The major shopping center in this part of the city is the Eaton Centre, which is Toronto's largest indoor shopping mall, with over three hundred stores. The recently minted Downtown Yonge shopping destination includes over 600 retail stores, 150 bars and restaurants, 8 hotels, 4 theatres, and Yonge-Dundas Square which is Toronto's version of Times Square and features year-round concerts, events, and community celebrations.
Parks, Recreation & Culture
Recreation in Church Yonge-Corridor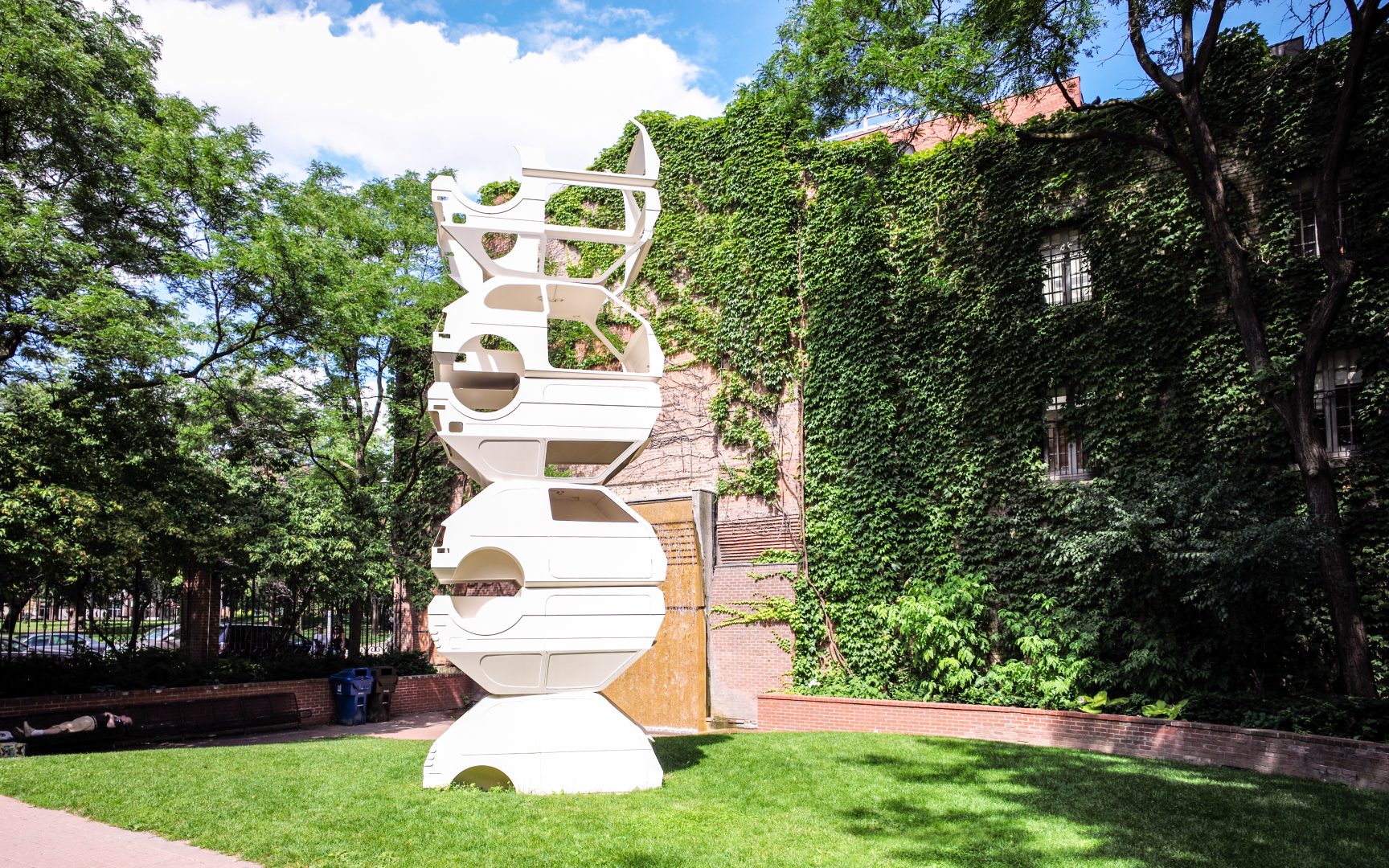 Photo by Shane Carslake
Allan Gardens is the largest public park in the Downtown core. This park is the home of the Allan Gardens Conservatory, a botanical garden with six greenhouses that feature unusual and exotic plants from around the world. Allan Gardens' calendar of events includes spring, easter, and fall flower shows, as well as a Victorian Christmas show.
The John Innes Community Centre located at 150 Sherbourne Street, has an indoor swimming pool, a gymnasium, a running track, a weight room, a cardio training room, a games room, a woodworking shop, and a craft room. Adjacent to the community center is the Moss Park Arena which includes pleasure and power skating programs as well as hockey leagues and a summer hockey camp.
The largest is Allan Gardens Conservatory, also one of the city's oldest parks. This iconic spot is a 16,000 sq ft indoor botanical garden housing 6 greenhouses, and the park outside even features an off-leash dog area and playground.
St. James Park right beside the iconic attraction St. James Cathedral is a stunning scenic park with walking trails, flower gardens, and a playground for the kiddies. Other green spaces in the hood include Cawthra Square, Ryerson Community Park, and Norman Jewison Park.
Shops, Restaurant and Services
The heart of Church-Yonge Corridor can be found at Yonge-Dundas Square, Toronto's version of New York's Times Square. It serves as a community gathering place for events and hosts many year-round concerts and community celebrations.
Shopping in this hood is a breeze with so many different options from the high-end fashion stores on Bloor, to the trendy boutiques on Church, to the day-to-day retail that is found throughout the neighborhood. The biggest shopping attraction is the Eaton Centre, with over 300+ retailers it is one of the city's largest indoor shopping centers.
Entertainment in this neighborhood can be found in many forms, including catching a live theatre or music show at the renowned Massey Hall (and possibly getting a celebrity sighting). Musical, drama, and comedy performances are regular theatrical productions at The Elgin and Winter Garden Theatres and if you are in the mood for a. Buddies in Bad Times hosts.
The best part
Church-Yonge Corridor is ranked as the 3rd most walkable hood in the city. Residents literally have everything they need just outside their doorstep. Public transit is well serviced in this area with subway stations running all along Yonge and the Yonge and Bloor lines are the two largest in the city with busses/TTC running from each. Motorists looking to leave the area have easy access to Lakeshore and the Gardiner from Bloor Street.
Transportation in Church Yonge-Corridor
Bus services on Wellesley and Carlton Streets connect to the Sherbourne station on the Yonge-University-Spadina subway line. The Sherbourne Street bus connects to the Sherbourne station on the Bloor-Danforth subway line. There is also an express bus that runs on Jarvis Street during rush hour only. Motorists are approximately ten minutes from Lake Shore Boulevard and the Gardiner Expressway.
Schools:
Church-Yonge Corridor has 7 Public schools, 6 Catholic schools, and 4 Private schools in this neighborhood, your kids can get a great education.
PUBLIC SCHOOL
Address: 495 Jarvis St, Toronto, ON M4Y 2G8, Canada | Telephone: (416) 393-0140 | Fax: (416) 393-0184 | Email: Jarvis@tdsb.on.ca
Address: 100 Carlton St, Toronto, ON M5B 1M3, Canada | Telephone: 416 393-0175
Address: 14 Pembroke St, Toronto, ON M5A 1Z8, Canada | Telephone: 416 393-1360
Church Street Junior Public School
Address: 83 Alexander St, Toronto, ON M4Y 1B7, Canada | Telephone: (416) 393-1250 | Fax: (416) 393-1253 | Email: Church@tdsb.on.ca
Lord Dufferin Junior and Senior Public School
Address: 350 Parliament St, Toronto, ON M5A 2Z7, Canada | Telephone: (416) 393-1760 | Fax: (416) 393-0132 | Email: LordDufferin@tdsb.on.ca
Market Lane Junior and Senior Public School
Address: 246 The Esplanade, Toronto, ON M5A 4J6, Canada
Jesse Ketchum Junior and Senior Public School
Address: 61 Davenport Rd, Toronto, ON M5R 1H4, Canada
CATHOLIC AND PRIVATE SCHOOL
Address: 25 Linden St, Toronto, ON M4Y 1V5, Canada
Our Lady of Lourdes Catholic School
Address: 444 Sherbourne St, Toronto, ON M4X 1K2, Canada | Telephone: 416-393-5221 | Fax: 416-393-5806
Address: 330 Lansdowne Ave, Toronto, ON M6H 3Y1, Canada
Canada's National Ballet School
Address: 400 Jarvis St, Toronto, ON M4Y 2G6, Canada
Address: 557 Church Street, Toronto, Ontario, M4Y 2E2 | Telephone: 416.944.0661 | Fax: 416.944.8902 | Email: info@abelardschool.org
Keystone International Secondary School
Address: 23 Toronto St, Toronto, ON M5C 2R1, Canada | Telephone: +1 (416) 422 4123
Address: 17 Toronto St, Toronto, ON M5C 2E3, Canada | Telephone: 1-888-985-1467 (Toll Free) 416-613-9618 | Fax: 647-699-9289 | Email: info@nictoronto.ca
Address: 67 Bond St, Toronto, ON M5B 1X5, Canada | Telephone: 416-393-5518 | Fax: 416-393-5880
Address: 80 Sackville St, Toronto, ON M5A 3E5, Canada | Telephone: 416-393-5204 | Fax: (416) 393-9542 | Email: 416-397-6586
Address: 50 George St S, Toronto, ON M5A, Canada | Telephone: 416-393-5387 | Fax: 416-397-6057