Glenfield-Jane Heights, A Best High-rise apartment buildings in Toronto.
History:
Glenfield-Jane Heights, more well known as it's previous branding, Jane and Finch, it is a neighborhood in northwestern North York known for it's a large and diverse community. This community borders Highway 400 and lies south of Finch Ave. West. It borders on the west side of Black Creek.
Like the majority of Ontario at the time, the community started as a farming village and slowly expanded into a town as more people settled in. The neighborhood's first title was Elia, North York.
Skipping forward a few years to 1954, the government decided to use the land to build 3000 low-cost houses. The plan for building York University had also cut out around 400 acres of farmland. The rest of the land was used for commercial and industrial development in later years.
The year 1962 was when the neighborhood was first officially named District 10 and was planned out to be a modern community of low, medium, and high-density housing, employment, recreational opportunities, and social services. The community adopted the name Jane & Finch because of the increasingly popular intersection in the center of District 10. They had succeeded in growing the community however, most of the growth came from rentals and public housing.
Overview:
Jane-Finch was originally developed as a model suburb in the 1960s in response to the rapid urban growth of Toronto. The neighborhood is made up of single-family detached and semi-detached houses, along with a large number of high-rise apartment buildings. Being one of the most visible minority concentrated communities in the City of Toronto, the Jane-Finch community hosts a number of cultural activities. It is home to a large immigrant population, with a high percentage of Spanish, Italian, and Vietnamese speaking residents, most of whom live in high-rise apartment buildings and semi-detached houses. Jane-Finch Mall is popular for shopping, and a number of parks, including Firgrove, Oakdale, Spenvalley, Stanley, along with parts of Derry down, Topcliff, Downsview Dells, and Northwood.

Homes:
Glenfield – Jane Heights is a west Toronto neighborhood notable for its singles, renters, salespeople, tradespeople, and manufacturing workers. It has a higher than average population of immigrants, particularly those from Italy and Vietnam, and Italian, Spanish, and Vietnamese speaking. With the majority of the housing being semi-detached, these are the best types of residences that buyers will look into. Along with the abundant amount of renting and buying available apartment space, plenty of housing is found with fairly reasonable pricing on clean and safe streets within the neighborhood.
Lifestyle:
The community is one that is very diverse and full of different cultures that merge and grown off of one another. It is common to see street musicians and merchants expressing their culture in means of making a profit.
Parks, Recreation & Culture..
A go-to location in this neighbourhood is the Jane & Finch Mall. With over 70 different retailers, most of them being small market booths, this mall offers a very different experience from the typical all-brand shopping centers popular in urban societies. This mall is run by the community for the benefit of the community and it has been this way for a very long time.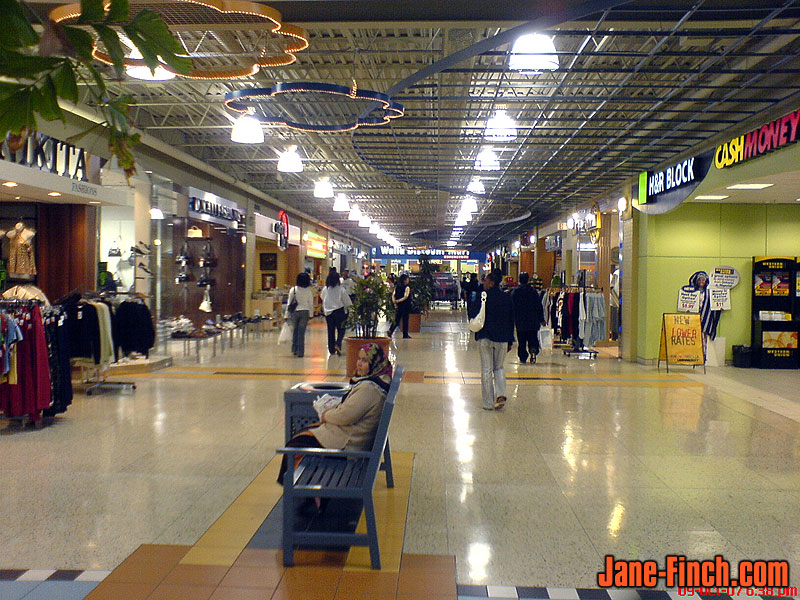 Libraries
Glenfield – Jane Heights has two Toronto Public Library locations, the bigger one being on Jane and Shepard, on the southern end of the neighborhood. While the smaller library, Yorkwoods Library on Finch Ave. West, is on the northern end o the neighborhood. Both libraries offer not only wide selections of books but also interesting hobbies and programs for all ages.
Fitness and Community
The second most famous mall in the area is Yorkgate Mall which is just across the street from Jane and Finch mall and holds more name brand stores and eateries. Recently, they had opened up a Planet Fitness center which has gathered more attention to the mall from those in the neighborhood and those outside of it who do not have a fitness center near them. It is both a convenient and wise addition to the overall attraction of the mall and it's greater community.
Parks
Several municipal parks are situated in Jane and Finch, including Fennimore Park, Driftwood Park, Edgeley Park, Hullmar Park, Oakdale Park, Remberto Navia Sports Field, Silvio Colella Park, and Topcliff Park. Several municipal parks are situated near the Black Creek, a tributary of the Humber River. The Black Creek, and its valleys, forms a part of the larger Toronto ravine system. Municipal parks in Jane and Finch are maintained by the Toronto Parks, Forestry and Recreation Division. The division also operates several community centres in the neighbourhood, including Driftwood Community Centre, Domenico DiLuca Community Recreation Centre, Northwood Community Centre, Oakdale Community Centre.
Transportation:
Several major roadways bound the neighbourhood, including the two namesake streets that form its core; Jane Street and Finch Avenue. Other major thoroughfares that pass through the neighbourhood are Steeles Avenue to the north, Sheppard Avenue to the south, and Highway 400 to the west. Highway 400 is a controlled access highway that forms a part of the province's 400-series highways.
Public transportation in the neighbourhood is provided by the Toronto Transit Commission (TTC). The TTC operates several bus routes in the neighbourhood. Finch West station, on the western branch of Line 1 of the Toronto subway, is located at Keele Street, 2 km east of the Jane-Finch intersection, and is accessed via the 36 Finch West bus.
Plans to construct a light rail line through the neighborhood, the Finch West LRT, are presently underway and is expected to open in 2023,[14] and a community hub for the Finch West LRT is planned to be built.
Schools:
It has 11 Public schools, 6 Catholic schools, in this neighborhood, your kids can get a great education.
PUBLIC SCHOOL
Address: 270 Firgrove Crescent, North York, ON M3N 1K8, Canada | Telephone: (416) 395-2420 | Fax: (416) 395-5240 | Email: Firgrove@tdsb.on.ca
Address: 25 Yorkwoods Gate, North York, ON M3N, Canada | Telephone: (416) 395-2990 | Fax: (416) 395-6559 | Email: Yorkwoods@tdsb.on.ca
Address: 75 Stanley Rd, North York, ON M3N 1C2, Canada | Telephone: (416) 395-2890 | Fax: (416) 395-2893 | Email: Stanley@tdsb.on.ca
Address: 116 Cornelius Pkwy, North York, ON M6L 2K5, Canada | Telephone: 416 397-2000
Address: 300 Banbury Rd, North York, ON M2L 2W2, Canada | Telephone: 416 397-2085
Beverley Heights Middle School
Address: 26 Troutbrooke Dr, North York, ON M3M 1S5, Canada | Telephone: (416) 395-3000 | Fax: (416) 395-3796 | Email: BeverleyHeights@tdsb.on.ca
Address: 35 Calico Dr, North York, ON M3L 1V5, Canada | Telephone: (416) 395-2130 | Fax: (416) 395-2134 | Email: Calico@tdsb.on.ca
C. W. Jefferys Collegiate Institute
Address: 340 Sentinel Rd, North York, ON M3J 1V2, Canada | Telephone: (416) 395-3170 | Fax: (416) 395-4211 | Email: CWJefferys@tdsb.on.ca
Westview Centennial Secondary School
Address: 755 Oakdale Rd, North York, ON M3N 1W7, Canada | Telephone: (416) 395-3320 | Fax: (416) 395-6627 | Email: Westview@tdsb.on.ca
Address: 495 65 Topcliff Ave, North York, ON M3N 1L6, Canada | Telephone: (416) 393-0140 | Fax: (416) 395-4529 | Email: Topcliff@tdsb.on.ca
Address: 495 Jarvis St, Toronto, ON M4Y 2G8, Canada | Telephone: (416) 395-3060 | Fax: (416) 395-3168 | Email: OakdalePark@tdsb.on.ca
CATHOLIC AND PRIVATE SCHOOL
St. Francis de Sales Catholic School
Address: 333 Firgrove Crescent, North York, ON M3N, Canada | Telephone: 416-393-5366 | Fax: 416-229-3743
St. Jane Frances Catholic School
Address: 2745 Jane St, North York, ON M3L 2E8, Canada | Telephone: 416-393-5296 | Fax: 416-393-5135
Blessed Margherita of Cittá di Castello
Address: 108 Spenvalley Dr, North York, ON M3L 1Z4, Canada | Telephone: 416-393-5409 | Fax: 416-393-5430
Address: 1865 Sheppard Ave W, North York, ON M3L 1Y3, Canada | Telephone: 416-393-5344 | Fax: 416-397-6321
ÉÉC Saint-Noël-Chabanel-Toronto
Address: 30 Thistle Down Boulevard, Toronto, ON M9V 1H8
Address: 110 Drewry Ave, North York, ON M2M 1C8, Canada